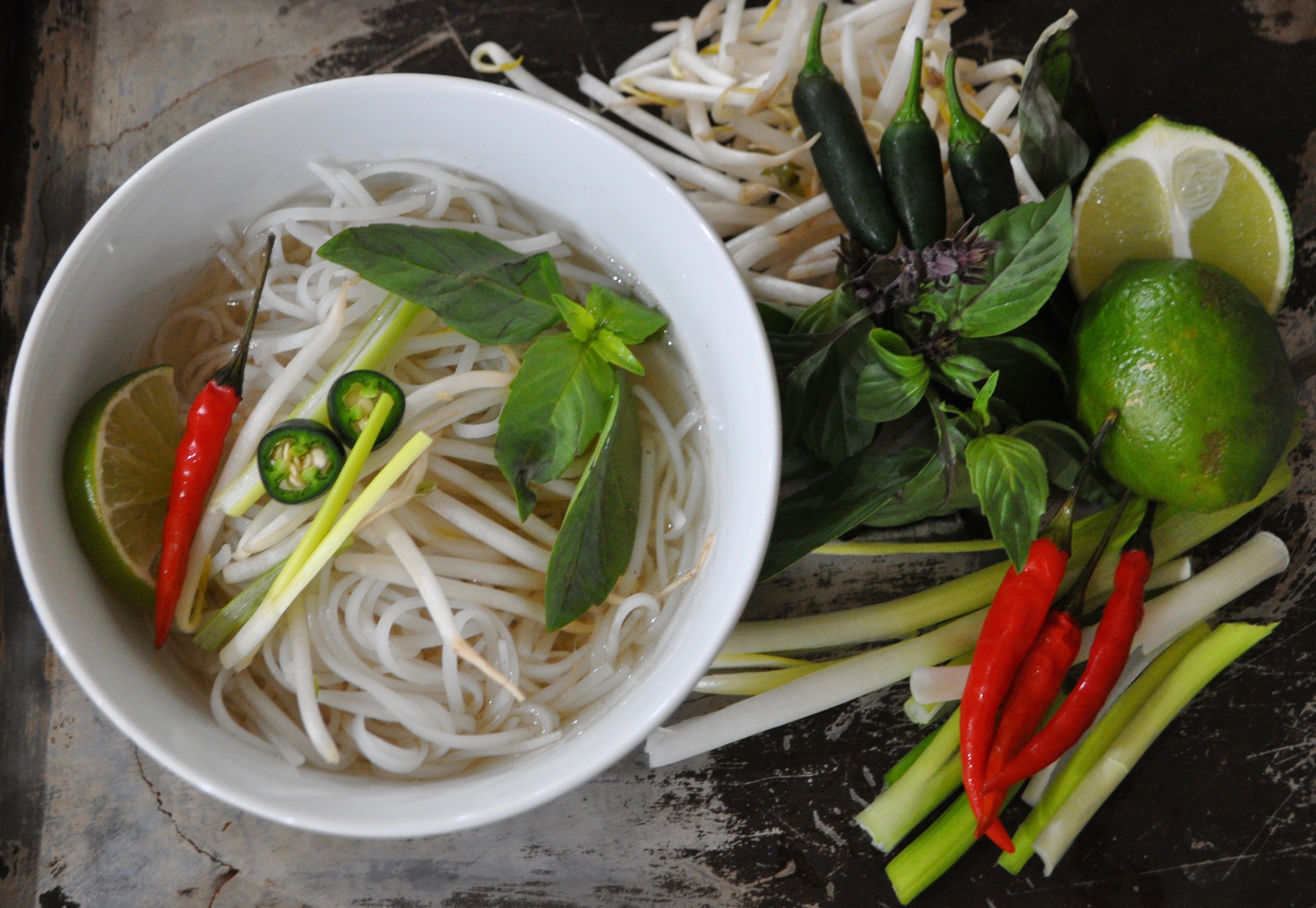 Pho is easier to make than I thought. There are no hard prep requirements or techniques to master. If you can boil water, you can make pho.
This is an easy beef Pho version for four people in 1½ hours using a pressure cooker. The sweet-savory broth always comes out full of flavor and the rice noodles are addicting–and gluten free!
Created by dealiciouscooking on 4 January, 2018
Ingredients
For the broth
2

pounds

marrow bones

1

pound

boneless beef brisket, chuck, or cross-rib roast

2

star anise

1

teaspoon

corieander seeds, whole

1

cinnamon stick

3

whole cloves

2

inch section ginger, peeled, thickly sliced

1

yellow onion, halved and thickly sliced

9

cups

water

3

teaspoons

sea salt

2

tablespoons

fish sauce

10

ounces

dried narrow flat rice noodles

1

teaspoon

sugar
For the toppings
fresh Thai/purple basil

green onions

serrano peppers and other chilis

limes

fresh bean sprouts

serrano peppers and other chilis

limes
Instructions
Rinse the bones and boneless beef with warm water to remove excess blood or bits on the surface; set aside in a bowl.
Put the star anise, cinnamon, and cloves in a 6- to 8-quart pressure cooker. Over medium heat, toast for several minutes, shaking or stirring, until fragrant. Add the ginger and onion. Stir to release a little flavor. A bit of browning is okay.
Add the water, all of the bones, boneless beef, and salt. Lock the lid in place. Bring to high pressure (15 psi) over high heat. Lower the heat to maintain pressure. Cook for 30 minutes, or longer if your cooker's high setting is less than 15 psi.
Turn heat off and allow the pressure to decrease naturally. Remove the lid.
Use tongs to transfer the boneless meat to a separate bowl. Strain broth through a cheese cloth or thin mesh strainer over a pot. Discard the remaining solids.
Season broth with the fish sauce, extra salt, and sugar. Put pot back in low heat. Let it simmer until serving time.
About 30 minutes before serving, ready the ingredients for the bowls. Thinly slice the cooked beef. Place green onion, basil, sliced serranos and bean sprouts on a platter/plate for a pho assembly line.
Cook noodles according to package instructions. Rinse and drain well. Divide among 4 large soup bowls.
Check the broth flavor once more, raise the heat, and bring it to a boil. Serve about 2 cups broth into each bowl. Self serve sides. Don't forget to squeeze some fresh lime juice to wrap all the flavors!